Sustainability Initiatives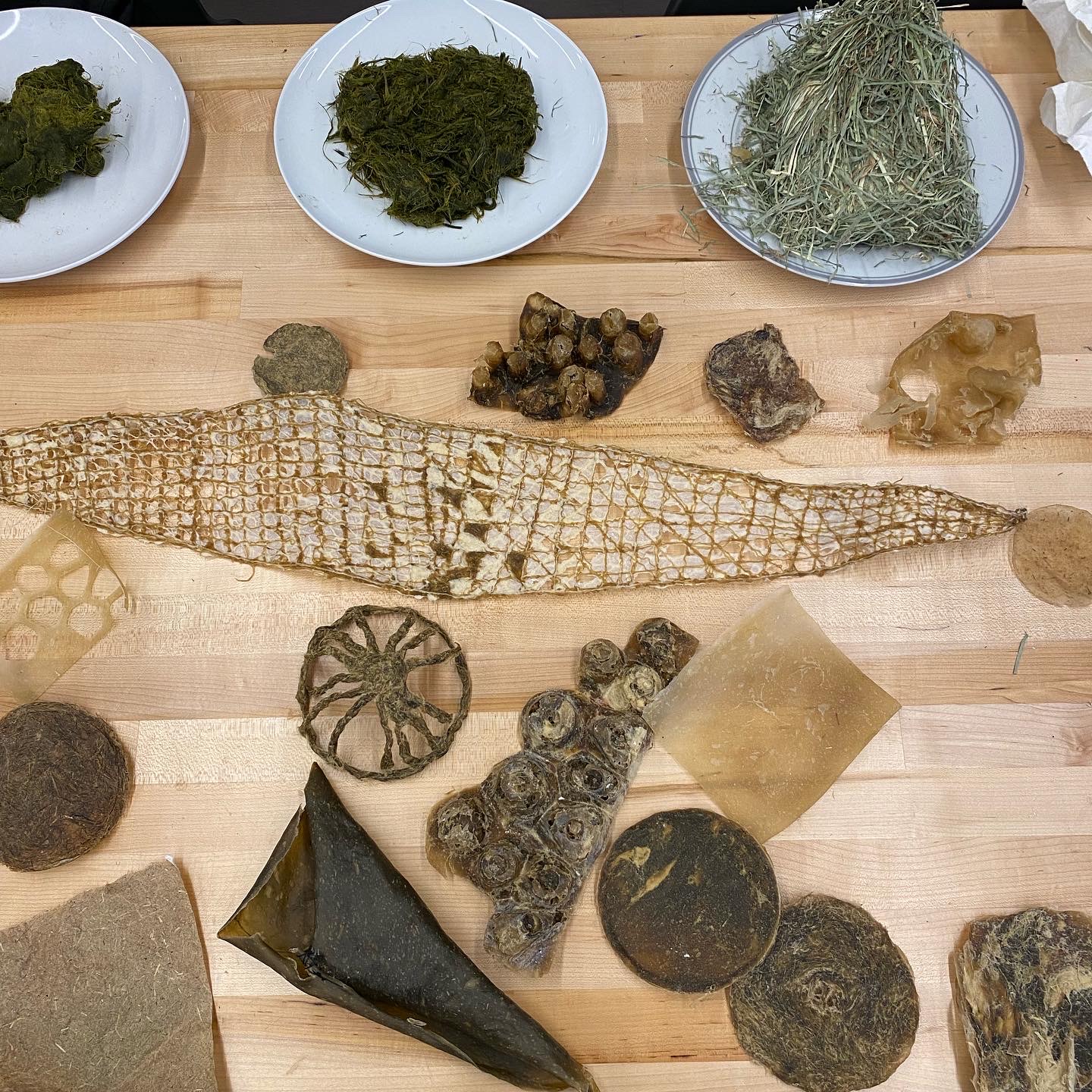 Some of our recent sustainability initiatives include:
Repair Workshops

 
Our ongoing series of workshops focusing on repair have been led by staff and invited repair experts. These repair sessions teach practical skills, tools and techniques as well as the benefits and reasoning behind repair. Our repair workshops include: Clothing Repair; Jewelry Repair, Wood Repair, and a Tech Repair Workshop led by iFixit. 
Workshops
The Design Center has hosted several staff-led workshops emphasizing sustainability in the design and making processes. Instructional zines accompany these hands-on sessions, which include: Mold Making for Mycelium Fabrication; Casting with Mycelium; Biomimicry Design; Reusable Bag Making Workshop; Upcycled Tie-Dye Workshop, and Upcycled Crochet Bag Workshop. Staff continue to develop and lead workshops that incorporate circularity and sustainability in the making process. Have an idea for a sustainable workshop or collaboration? Email designcenter@barnard.edu to share your ideas with our team. 
Image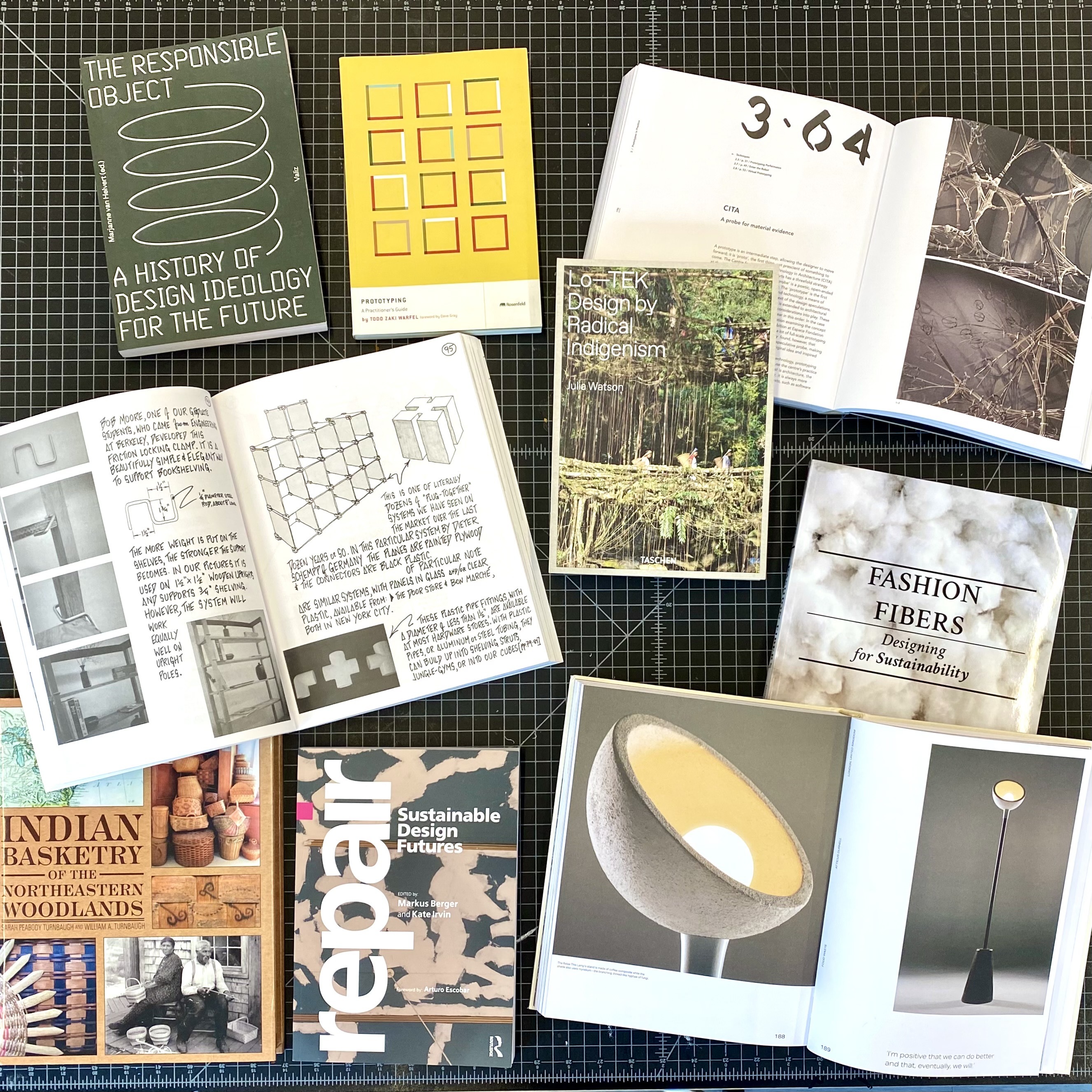 Design Library 
The Design Center now has a reference library containing books with a range of technological and material design references to inform and inspire sustainable design practices. These books are available for reference use in the Design Center and you can find the full list catalogued in CLIO. Come by to look through these publications and increase your knowledge of sustainability to apply to your design processes! 
Community Collaboration
Design Center staff in partnership with CEI and Sustainability have participated in the STEAM in the City program to host events and lead professional development workshops for local Harlem educators to bring hands-on learning into their classrooms. Some of the classroom-friendly, design driven workshops have included indoor vermicompost bin building, bioplastics creation, and beehive construction.
Material Supply 
The Design Center sources sustainable materials when possible, including recycled fabric from FABSCRAP; biodegradable 3D printing filament (including those made from algae and biodegradable packaging); and gently used equipment and materials from Rheaply, an internal reuse platform for students, faculty, and staff. We purchase recycled materials for project and workshop use, including recycled acrylic and t-shirts and tote bags made from recycled textiles.
We've updated our Materials Resource Guide to include local vendors and green options. We also order materials from Barnard preferred vendors that meet equity and diversity criteria as minority owned, registered small businesses. 
We encourage the use of scrap materials and waste reduction by keeping a scrap fabric supply, as well as scrap wood/cardboard and acrylic for use in the prototyping & making process.  
We also support the creation of and experimentation with biodegradable materials we produce in the Design Center, including bioplastics and mycelium fabrication.
Tool Inventory
We've added tools and resources to support users in repairing their own items in the Design Center, including iFixit's tech repair kits, electronics repair supplies, jewelry repair kits and tools, and clothing repair tools. Our 3D printing system includes a 3D printing filament dryer and air-tight filament storage to extend the shelf life of our filaments. We also regularly maintain and repair our tools and equipment.
Waste Management
We recycle in the Design Center and participate in a 3D printing filament recycling program through TerraCycle. We also recycle scrap textiles locally with FABSCRAP, and compost biowaste when possible. We support recycling in the Design Center by keeping organized scrap material available in the space for students to use, including textiles, wood, and acrylic.
Image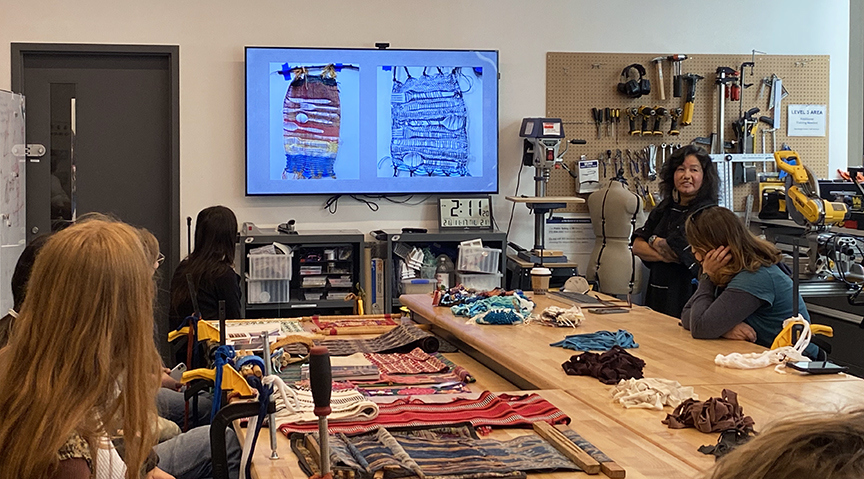 Design Talk Series
The 2022-2023 Design Talk Series focuses on ecodesign, ecology, and sustainable making practices to inspire our community to think and make through sustainable frameworks from practitioners prioritizing these methods of design from diverse perspectives. Three recent talks and workshops included theoretical discussion and hands-on making on topics including traditional weaving practices, mycorrhizal networks and the design of urban ecosystems, and healthy and sustainable building materials for design and fabrication.
Cynthia Alberto led the workshop Backstrap Weaving using Zero-Waste Fabrics teaching culturally specific histories of this practice and introduced the backstrap loom. Participants created woven projects with an emphasis on sustainable, zero-waste weaving using recycled textiles.
Vanessa Harden gave a talk "Designing the Fungal City - Exploring mycorrhizal networks in the built environment" on how mycorrhizal networks and plant connectivity can be beneficial to the design of urban ecosystems.
Cristina Handal and Alison Mears of Parsons Healthy Materials Lab led an interactive talk and workshop teaching about embodied carbon and toxic chemicals in common building materials in the event Healthy Building: Carbon & Chemicals. 
In 2021-2022, the Design Talk Series inspired by Barnard's Year of Science featured artists and designers orienting their creative practices at the intersection of science and sustainability. This included FIELD collaborators who led us through making grass-based bioplastics in their workshop How to Grow a Field? as well as Ana Mengote Baluca, whose interactive workshop Creative Circuits instructed on how to wire a solar-powered charger to a tote bag with conductive materials.